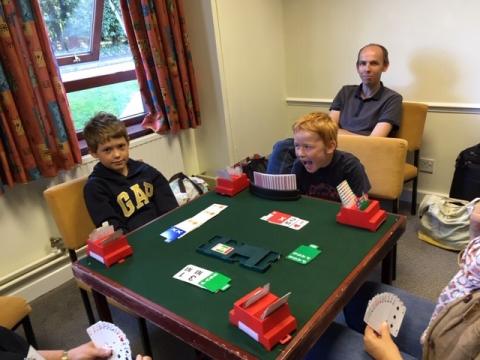 The 2019 Junior Teach-In, organised by EBED, took place at King's Park Conference Centre, Northampton over three days on the 30th August to the 1st September 2019. 65 people attended in total.
It was a weekend full of teaching, fun and competition as well as recreational and sporting activities, thoroughly enjoyed by all.
Feedback of the event has been very positive, with many thanks to Alan Shillitoe, Michael Byrne, Giorgio Provenza, Alex Roberts, Tom Copeland, Alison Nicolson, David Emerson, Joan Bennett, Gabriel Ip and Megan Jones for helping myself run the event so smoothly.
A link to see more photos of the event can be seen here



The Bridge Honours are below:
Friday Evening Cross-Imp Pairs: Sam and Will Wakefield
Friday Speedball: Theo Sinclair and Kim Hudson
Saturday Arnott-Davidson Trophy: Freddie Beneat and Zane Soonawalla
Saturday Speedball Teams: Freddie Beneat, Zane Soonawalla, Isaac Skevington and Lucy Norman
Most Improved Player of the Weekend: Leon Gunasekara
Best Etiquette Award: Nandini Agarwal
Congratulations to all!
Giles Ip, Bridge for Youth Officer