Learn to play Bridge
Bridge is the most exciting and challenging card game there is. You can learn to play a simple hand or two in an hour but improving your play is a life-long journey. Bridge offers something to learners of all ages and at all levels. You can play socially around a kitchen table or take part in tournaments at national and international level. You can play in your local club or travel the world for events or on bridge cruises.
Bridge is sociable and an excellent way to make new friends. It is mentally stimulating and endlessly engaging and EBED is here to help you on your way to play.
What is Bridge?
Bridge is a trick-taking card game but what makes it unique is that it's played with a partner. Contract Bridge involves a bidding auction where your partnership commit to making a certain number of tricks and then you play the cards to see if you can achieve that.
Watch these videos on You Tube to find out more.
How can I learn bridge?
Most people join a class of between 12 – 20 students and are guided in their learning by a professional bridge teacher. This can happen in a classroom or online. Learning with a group ensures you find other people to play and practice with straight away and that you can improve your learning by asking questions and getting help when you need it. Find a local teacher or an online teacher with our EBED Teachers Directory of qualified bridge teachers.
Some people want to study independently with a book or online materials. See our publications page for bridge books or use the links below to find a qualified bridge teacher.
Click to view: EBED Teachers Directory to find a Qualified Bridge Teacher online or near you.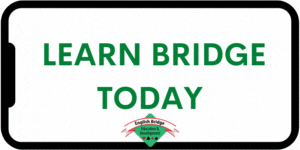 How can I improve my bridge?
Once you know a little, you can join intermediate lessons to learn more, but the most important thing is to play, play and play! Whether it's a social game or in a bridge club, every hand can bring something new and perhaps a new technique to master. EBED offers regular online games called "Relaxed duplicate" which you can join each week.
Play Online – EBS Relaxed Pairs games on BBO

Every Wednesday at 2pm Hosted by the English Bridge School on BBO (Bridgebase-online).
The entry fee is just $3.50 per game and it is ideal for players still learning, or those who have completed Beginning Bridge Book One.
For each game:
Help finding a partner
Relaxed pace – help available throughout
An ideal introduction to duplicate pairs and online bridge
After play:
12 Pre-dealt hands with commentary, suggesting recommended bidding
Follow up - review the hands with an instructor-led Zoom discussion (free)
You can register, find out more and see previous game results and get the Zoom link for free follow up advice at
English Bridge School Relaxed duplicate web page.
Bridge for All - Our recommended learning programme
Our own publications are called Bridge for All and are very popular with students and teachers. The books offer a blend of explanation, exercises and practice hands so you can learn with a teacher and practice outside of class with other class members. For a description of the course and books, see our Publications page and our Bridge for All page.

Find a class
For help in finding a local teacher, call Lisa on 01296 317217 or email info@ebedcio.org.uk.
The EBED Teachers Directory includes details of teachers who are members of EBTA (our English Bridge Teachers Association).
You also find classes in many locations and online so check local advertising for your local bridge club or Adult Education centre.