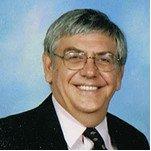 We wish to announce the retirement of Andrew Petrie from Chairman of the Board of English Bridge Education and Development CIO. Andrew has held the position since the charity's inception and his leaving marks the end of an era for EBED.
We are indebted to his vision for propelling EBED to our present position, and his commitment and passion for bridge has assured our success for the future of the charity.
We celebrated with Andrew by holding a small farewell reception at The Oak, Goldhawk Road, London. Those attending included Andrew's wife Veronica, EBED Trustees and members of the team from Aylesbury. All of whom extended their good wishes to Andrew in his new endeavours.
To mark the occasion, EBED CEO, Donna Wright presented Andrew with a gift from EBED colleagues and EBU staff.