Junior Bridge Camp 2023
Bridge camps are great fun and include other games and sports. They are residential events and usually over a weekend outside of school term dates.
We have teamed up with Bridge4Schools to advertise and manage booking for some events. See also Youth Calendar page for information.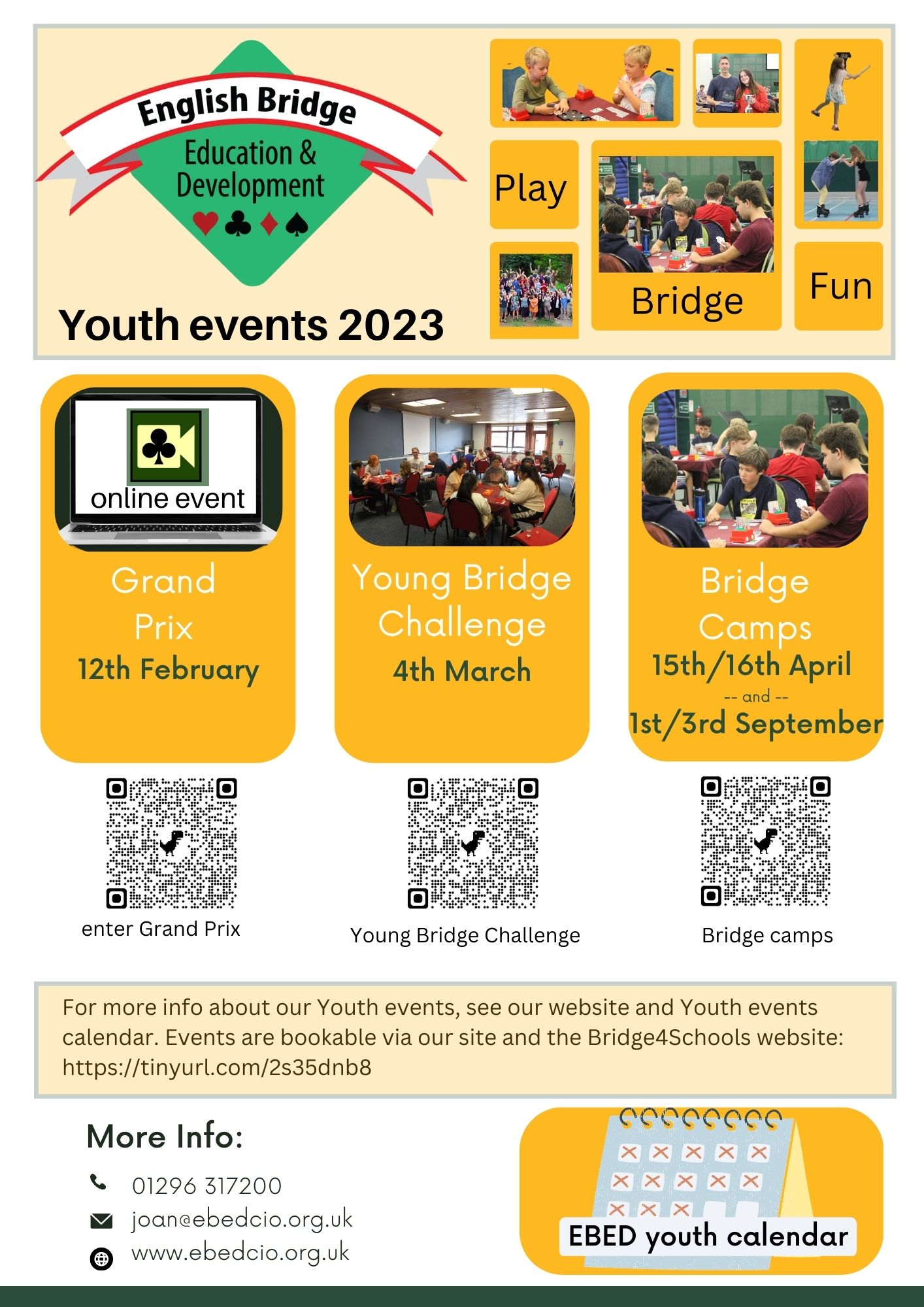 Read about previous events:
Our 2022 Junior Teach-in was held in from 2nd to 4th September 2022. Until we begin to plan our next event, we will keep the details here so to give you an idea of what to expect: A fun packed weekend of learning and playing bridge and having fun was had by all. Our last event was held at King's Park Conference Centre, Northampton.
Read about our last Junior Bridge Camp here
The programme in outline:
• Arrive Friday late afternoon to meet before dinner at 6pm.
• Bridge starts Friday evening, and continues, with a few breaks to catch your breath, until Sunday afternoon (but there's time on Saturday afternoon for recreational activity).
• Lots of tuition and Saturday evening tournament for all with prizes!
• Opportunities for everyone to join in with quizzes and leisure activities.
• Finish in good time to get home early on Sunday evening.
Download the poster
How to apply:
No application for autumn 2023 is available yet. Contact youth@ebedcio.or.uk if you are interested in getting started with bridge or joining a youth event.
See our Youth Calendar for other forthcoming events.
For residential events:
Parents or accompanying adults are welcome to stay with children of any age.
A Bursary Fund helps to enable children and young people from less well off households to attend events like this. Can you help by making a small donation? Click here to go to our donation page